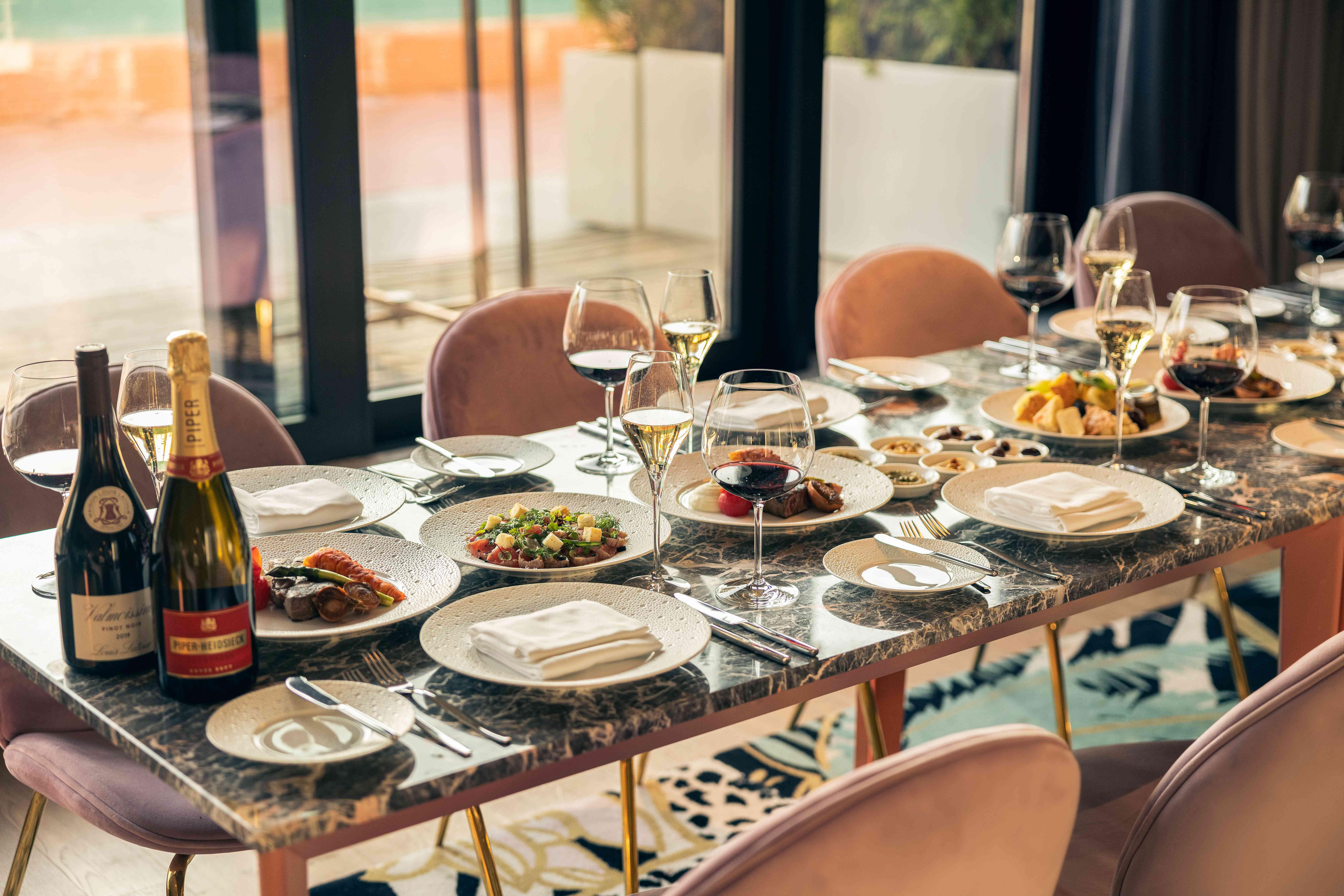 CABANA PRIVATE DINING
Looking for a unique & luxurious private space to gather your loved ones?
Plan your dream celebrations in our Cabana Private Dining room with a spacious terrace built in style. From the sumptuous 5-course sharing menu carefully prepared by our chefs to the best wine & whiskey pairing per dish, Mondrian Seoul Itaewon will help you conclude the year on a high note.
Dining Hours: 3 hours
Price: KRW 1,500,000 for 4 guests, including venue rental fee.
(KRW 300,000 chargeable per person from the 5th guest)
Capacity: 4 - 12
Inclusion:
- Use of Cabana Private Dining space for 3 hours
- 5-course sharing menu
- Wine & Whiskey pairings
- Butler service
- Access to a private terrace with heaters
- Devialet Bluetooth speaker available in the dining room
[5 course sharing menu]
Appetizer
- TRIO OF DIPS (Baba Ganoush, Hummus, Labneh) WITH HOUSE-BAKED PITA BREAD
- BURRATA CHEESE & COLORFUL TOMATOES
- SEARED TUNA SALAD
Main
- WEBER – LIVE GRILLED STRIPLOIN & TENDERLOIN, LOBSTER WITH GRILLED VEGETABLES
Desserts
- ASSORTED CHEESE AND FRUIT PLATTER, JAMON & MELON
[Wine & Whiskey pairings]
CHAMPAGNE
- Piper Heidsieck Cuvée Brut
WHITE
- Cirro Sauvignon Blanc, Marlborough, New Zealand
RED
- Le Mortelle Botrosecco Maremma Toscana, Cabernet
- Sauvignon-Cabernet Franc, Toscana, Italy
WHISKEY
- Balvenie 14 Year Old Caribbean Cask Single Malt Scotch Whiskey

Reservations & Inquiries 02.2076.2000
More Offers From Mondrian Seoul Itaewon