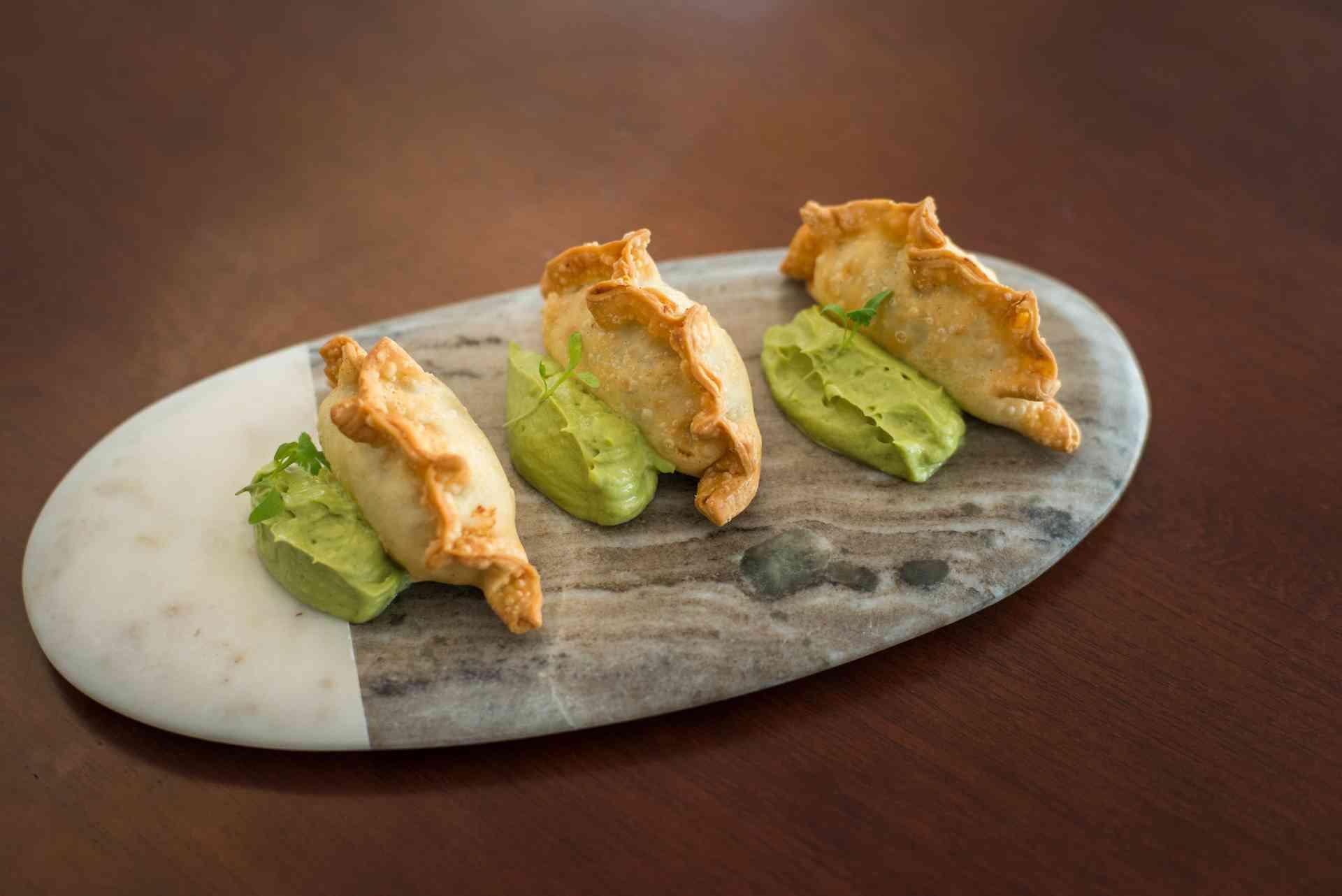 AWARD-WINNING LEYNIA'S LEGENDARY EMPANADAS BY JOSE ICARDI
INGREDIENTS NEEDED

Dough
3 cups all-purpose flour
¼ to 1/2 teaspoon salt
6 oz unsalted butter (1 stick of butter = 4 oz)
1 egg
1/4 cup to 1/2 cup water or milk (adjust as needed to obtain a soft and smooth dough)
Filling
4 oz unsalted butter
4 oz all-purpose flour
30 oz milk
16 oz swiss cheese
10 poblano chiles
26 oz corn
1 teaspoon salt
PREPARATION
Dough
Mix the flour and salt in a food processor.
Add the butter and pulse.
Add the egg and the water or milk (in small increments) and continue pulsing until a clumpy dough forms
To make the empanada dough by hand, follow the same instruction but use your hands to mix the ingredients together.
Split the dough into 2 large ball, flatten slightly into the shape of disks. The dough can be used immediately or refrigerated until ready to use (1-2 days max).
Roll out the dough into a thin sheet and cut out round disc shapes for empanadas (use round molds or a small plate). You can also make small individual balls with the dough and roll out each individual ball to a round shape (it doesn't need to be perfectly round)–if you have a tortilla press you can use it to flatten the dough balls.
Use immediately, or store in the refrigerator/freezer to use later
Filling
In a sauce pot add the butter and allow to melt.
After it melts, add in the flour a little at a time and mix until all is incorporated.
Allow to cook for a few minutes.
Add the milk little-by-little until the flour cooks.
Add the cheese and allow to melt.
Remove from the heat and add the poblanos (peeled).
Sauté the corn and add to the mix as well.
FINISH AND PRESENTATION
Divide chilled dough into 1-ounce pieces and form into 2-inch diameter balls.
Roll each piece into a 4 1/2-inch circle.
Lay circles on a baking sheet lightly dusted with flour.
Moisten outer edge of each round with water.
Put about 2 tablespoons filling in the center of each round.
Wrap dough around filling to form empanada, pressing edges together.
Fold edge back and finish by pinching little pleats or crimping with a fork.
Heat oven to 375 degrees or in the deep fryer at 375 degree if you like to deep fry the empanada 
Place empanadas on parchment-lined or oiled baking sheet, about 1 inch apart.
Brush tops lightly with lard or butter and bake on top shelf of oven until golden, 10 to 15 minutes.
Serve warm.
"Smoky Water" with Dos Hombres Mezcal
Instructions & Ingredients
2oz Dos Hombres Mezcal
1oz lime 
.75 oz serrano simple syrup
Muddle 4 watermelon pieces 
Shake with cilantro 
Black salt rim
Lime garnish